X-FERT Agri – Oil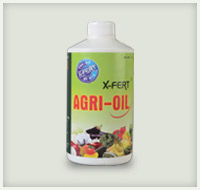 Functions
Agri oil is highly effective against various plant diseases & pests.
Agri oil is applied neat or as emulsion or a combination of Agri oil & fungicide.
Agri oil prevents diseases & pest infestation by smothering & denying fungi & pest access to the conditions necessary for growth.
As the mode of action of Agri oil is not chemical poisoning, fungi & pest access to the conditions necessary for growth.
Agri oil controls scale, aphids, mealy bug & mites on banana, pomegranate, orange, Citrus & other fruit trees.
Agri oil is an effective protestant against diseases & pest on ornamental plants, roses & other garden plants.
It can be used as a leaf shine for indoor plants.
Agri oil's holding period is only one day.
Low toxicity to humans & animals.
Dose:
5-10 ml Agri Oil/Litre of water depending on plant type through cover upper & lower surface of foliage.
Precautions
Do not spray when temperatures are near 35˚C or above.
X-FERT Bunad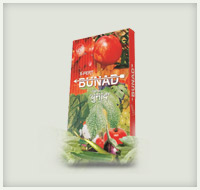 Functions
Controls fungal diseases effectively.
Act as a preventive as well as a curative fungicide.
Bunad is an herbal extract hence no side effects as well as no chemical residue.
Controls Downey mildew, powdery mildew, early blight, late blight, leaf curl, fruit rot, root rot, alterneria, black spot etc.
Dose:
5 gm Bunad /Litre of water (Separate spray).
2.5 gm Bunad + ½ gm chelated copper + ½ gm chelated zinc per Litre of water combine Spray)
X-FERT Duster
Functions
Duster is very efficient fungicide used for fumigation.
Duster is formulated as per Rahuri Krishi Vidyapeth's prescribed standards containing 4% copper dust.
All fungal diseases can be controlled by dusting duster on plants & soil.
Dose:
5 kg Duster / acre of land.
X-FERT Bordo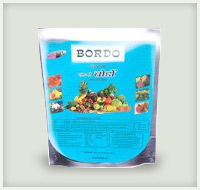 Functions
More effective.
Easily dispersible.
Easy to spray.
More effective than traditional Bordeaux mixture.
Spreads evenly on leaf surface.
Forms a protective shield on the leaves.
More per acre coverage.
It is used to control blight, fruit rot, leaf spot, rust, gummosis and wilt in grapes, tomato, onion, potato, pomegranate, chilly, Banana, Coffee, Orange etc.
Scorching is avoided as pH is neutral.
Lead or Arsenic free for residue free fruits like grapes, Pomegranates, citrus etc.
Dose:
5 gm / Litre of water (Spraying).
X-FERT Liquid Bordo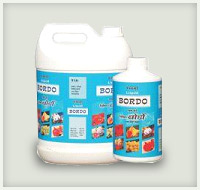 Functions
Liquid Bordo is in ready to use form with balanced pH.
Liquid Bordo can be easily used for spraying as well as drenching.
Drenching soil with liquid Bordo reduces the fungal diseases.
Liquid Bordo is effective anti fungal products.
Dose:
3 – 5 ml / Litre of water(Spraying).
X-FERT Cop
Functions
X-Fert Cop is used to control fungal diseases like Early blight, late blight, leaf curl, fruit rot, root rot, alterneria, black spot.
Dual use of copper as a micronutrient as well as fungicide.
Due to it specific pH it is easily absorbed though the leaves.
Dose:
5 ml Cop/ Litre of water(Spraying).
Liq. Sulphur (Sulphur 20%).
Functions
Sulphur is secondary nutrients.
X-Fert liquid Sulphur on grapes effectively used to control powdery mildew.
It can be used to control red spider.
It is necessary for plant growth.
Rust on wheat and rice can be effectively control by X-Fert Liquid Sulphur.
Due to its liquid nature it can be easily sprayed on crops and readily available.
Best fungicide for the fungus on the crop as well as the fungus in the soil.
Liquid sulphur fulfils the sulphur requirements of plant this helps the health growth of plant.
It increases pungency in onion and garlic.
It increases oil content of oil seed. Eg: groundnuts, sunflower, mustered seeds.
Dose:
2 ml Liquid Sulphur / Litre of water(Spraying).
1 – 2 Litre / acre of land (Drenching).
Note:
Do Not use in high temprature.